Beaches, Seaside and Hot Springs
Only half an hour from Peruzzo there are the most beautiful beaches of Maremma. If you would like to rent beach umbrellas and sun beds head to Marina di Grosseto, Castiglione della Pescaia, Punta Ala or Follonica, in these seaside towns you can even do some shopping.
But if you prefer a wilder kind of beach go to the Parco dell'Uccellina, south of Grosseto, or to that of Sterpaia, north of Follonica.
Absolutely not to be missed is the bay of the Gulf of Baratti, dominated by the castle of Populonia and the Etruscan necropolis, the wonderful surprise that is Cala Violina, which lies at the end of a path winding through the bush opening out to the sea, and Fiumara, which you get to by following a sandy channel just before arriving at the beach.
Here surfing and kite surfing is rife and in the afternoon, when the wind picks up, the sky is filled with brightly coloured sails.
There are many other possibilities of exploring the coast, by ferries and boats going to the island of Giglio and Giannutri, or by hiring a boat so that you can bath in unforgettable waters.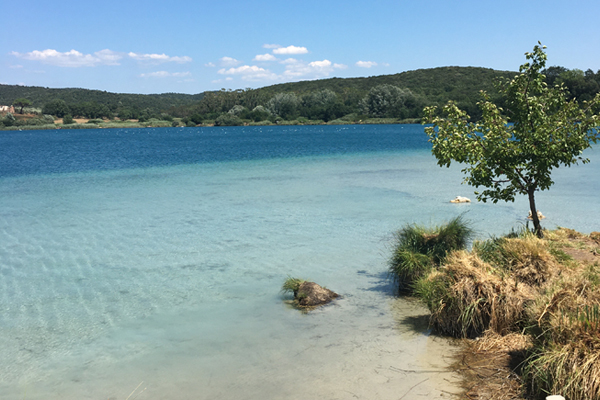 If you prefer fresh water than the salted sea's water, you can have a bath in the clear Accesa Lake or jump from the little waterfalls in the Farma river 's chilly water.
At the end, for out season's baths, we recommend thermal springs: Petriolo, the Calidario in Venturina, the Saturnia waterfalls, Bagno Vignoni and Bagni San Filippo.
KNOW MORE